Jared's full moon..
last saturday was my nephew (my cousin's son) jared's one month old celebration or as chinese call it full moon. i was invited to attend to his party. it have been almost half a year that i didn't meet them and quite frankly i feel akward being around them because one, i don't talk much around my family and two, i'm too lazy to come up with an excuse of why i haven't got myself a girlfriend yet. Yes, the question that every people use as a ice-breaker when talking to their relatives that they didn't meet for centuries or have just met for the 1st time.. i know you have had that experience or pop that question before.. ;)
my cousin live in a place i've only went for a couple of times so i have to rely on my aunt to take me there. Since the party is on saturday night, i have to decline my friend's offer to go watch "someone (don't remember the name) n the chocolate factory". And go to my aunt's place right after my half day work. After 12.30pm. i'm off from work and went to S & M to buy my nephew a present. There i've noticed that Malaysians are invincible and doesn't really give a damn to the law of the road.
"Police?? what police?? oh you mean the white monkey who stand in the middle of the road, is it??"
there's a bridge erected very near the Petaling Street but most of the people just braving through the heavy traffic because they are just too lazy to walk up a few steps..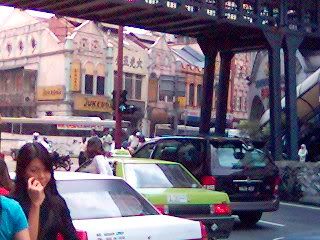 The bridge that are there for display only..
oh btw, that girl with the black t-shirt is quite cute hor? hehehe..
After i had lunch at McD, i went off to the Star LRT station at masjid jamek to take a trip to Tasik Selatan.. the trip costed RM 1.70 so it was cheap but after i bought the ticket, i've realised that i did something stupid. I have a monthly pass for unlimited ride and i forked out money to buy a ticket???!! i feel more stupid than i already am.. Fcuk...
Reaching the Tasik Selatan station, i call my aunt to pick me up.. while waiting for her, i saw graffities which are quite nice, the government call it a vandalism act, but if it were done nicely, i don't think it as an act of vandalism, it's an art..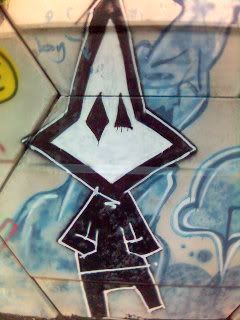 the forbidden art.
after a few minutes of waiting, finally my aunt arrived. Guess what's the 1st question that pop out from her mouth? YUP .. "So, found a girlfriend or not??" =___=
The party started at night n suprisingly i had quite a blast there despite having to answer the million ringgit question from every single relatives of mine.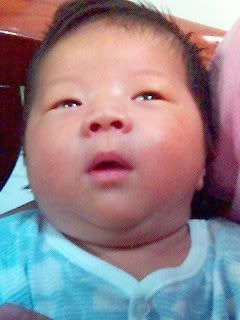 The star of the night Jared. cute no? :)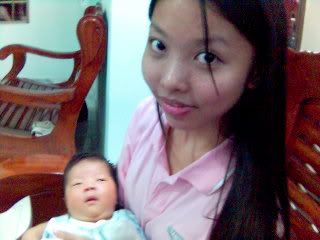 picture of mother M during her teen years holding the big J..
( nah its just my cousin Suet Yan (Maggie as we like to call her) holding our nephew Jared.. hehehe)
The satan from hell holding the big J .. ( quite true actually, i'm kinda evil.. ;) )
Oh ya, in case you are wondering why am i trying to kill my nephew by shaking him violently,
i didn't do any harm on him, it appear that way because my cousin's shaky hand holding the camera handphone. Rest assured that no babies were harmed during the picture was taken...
Yan Yi, Jared's sister.. which i always tend to forget her name..
hehehe...
i'm not good at remembering names... i'm so sorry!!! >__<
We stayed the n chatted until after 11pm ( well its actually because of my aunt trying to sell some health products to my cousin's friends ) i have to spend a night at my aunt's because the LRT station was closed down then..