spiderman action!!!!
yesterday me n hadibi aka gndagnor went to A & W outlet opposite Amcorp Mall to have brunch...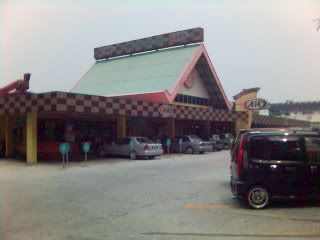 The setting of the place is quite nice, it has the theme like those american fast food outlet during the 70's where its a drive in n u can have ur meal inside your car...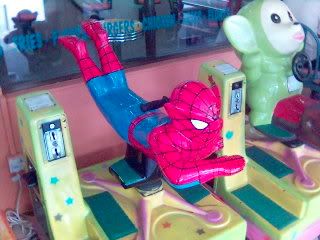 much to my suprise, they still got those rides that operates on RM1 token, but wat pulled my attention was this spiderman ride!!! screw the other rides ( in which i didn't take pics of them coz i had my eyes on this baby only!! ) but wait! this spiderman looked kinda weird... upon close inspection, spiderman has mutated ears the size of elephant's ears!!! finally his dream came true n he can fly now.. all he have to do now is to cut holes on his mask so that he can get his ears to flap freely..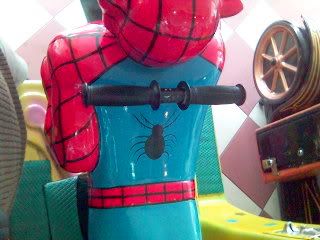 maybe spiderman is not satisfied with his image now that he made a tiny makeover, since that the spider logo is not as scary as it used to be, he made a desicion to change it into mutated spider!!! "nothing scares the thugs more than a spider with 12 legs!!!! muahahahahhaa!!!".
I tried so hard to resist taking a ride on him.. but he dares me over n over again until i decided that i can't take this anymore.. i took up his challenge n gave him some spidey action that he'll never forget the rest of his life.. consider he's pwned!!!!!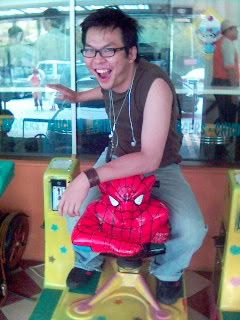 "WHO'S YOUR DADDY??!!!"