Yummy dim sum!!!
Last Sunday was the 1st time i had dim sum this year.. walao... so long time oledi i didn't have a traditional chinese breakfast (i'm losing touch with my chinese side.. >__<). It was my auntie who treated me this yummy breakfast (Thank you so much, it was good!!!) since i stayed at her house overnight after the saturday party.
KEDAI KOPI DAN MAKAN SEONG KEE (seong kee coffee and eatery shop) does the shop only serve coffee as drink?? If not then why does it only says here coffee??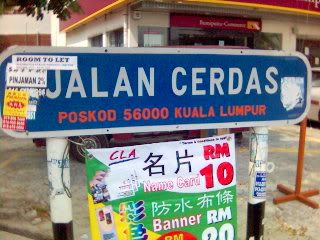 If you can find this road, then you certainly can find that restaurant..
When i say that i'm losing touch with my chinese side i really do mean it because i was so suprise to see that the place was packed with customers. "Holy crap!! Why so many people one? They all looked like they never had dim sum for years oledi.. (sounds like me no?)" i asked my aunt. Thus she look at me with her puzzled eyes and said, "Wah.. you really turning into Malay gui la. Dim sum has always been chinese's choice of breakfast on weekend mah. Why so suprise one??" I blushed, my cousin smirked at me. Crap!
Seriously i never seen so much people eat at one place before.. I feel so sakai... and the fact that people are willing to risked their lifes sitting on the road to eat even amazes me more..
We waited for 15 minutes ,
15 MINUTES!!
waiting for a vacant table. I was kinda pissed about it and ask my aunt. "there's no other dim sum restaurant meh? we waited here for so long liao, have to fight for table too..". She told me there are several more dim sum restaurant nearby but it's just the same as this one, packed with hungry chinese people.
Chee seen!!!
since we've waited for so long, we might as well keep on doing it. I don't want to waste any more time by starting all over again at a new restaurant. During the waiting period, there was an accident happened just across the road. Everyone stopped eating to see what happened for about 5 seconds then continue stuffing themselves silly with the yummy dim sums. This fact suprises me too because Malaysians like to watch accidents, they willing to slow down their car and causes traffic jam just to see wat have happened on the road, n buy lottery based on the plate numbers if they manage to catch it.. but now they don't give crap what happens across the road. All because of their breakfast.
"Ceh! accident only mah.. don't even bother to look what the plate number are now that i'm having my yummy dim sum.. MMMmmm har kow rocks!!"
Finally we got a vacant table to sit on and started ordering some food to fill our empty stomach. But since we have to fight with others calling for the har kow and siew mai . I only manage to take this pic before my aunt yelled at me. "Oui! quit taking pics and start eating oledi!!"
Incase you are wondering, No.. this are not the only food we ordered on that day. There were more, much much more afterward but my aunt won't let me take pics while we're eating..
After the delicious breakfast, i'm on my home.. i was too tired to go anywhere else because i woke up too early on sunday, which is something that i won't normally do on weekend . I can't wait to get to my comfy room and sleep on my comfy bed...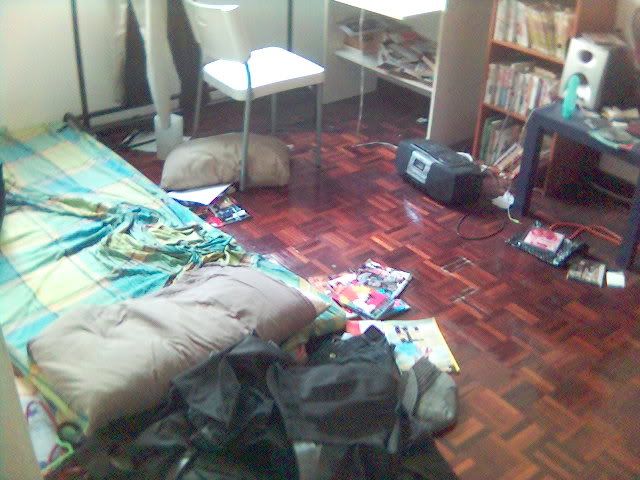 AAAhhhh... my comfy roo..... wait.. err .. hehehe i forgot to clean it up... wait ar....

20 minutes later.....

This is more like it... AAAhhhh my comfy room~~~~