Look alike?? O_O
I wanted to blog about the buffet that I had with my friends last Saturday but decided to ditch the idea because I got lazy and frankly it will be too long for me to blog about it here..
But it was a very enjoyable night that I had with friends and I hope we can goof off in a classy place again some time soon.. >_< We took alot of (crappy ) pictures from it. ( have to use handphone's camera since Hussien didn't bring his digital camera along ) .And below are some of the pics... I would post some more of them some time later..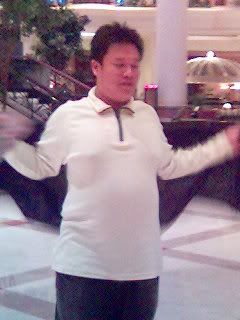 Hussien got a hold on Sandra's scarf and was goffing around with it.. Now that I look at it, he does looked like the Batman that I saw last time


The resemblance is uncanny, don't you think?

Here's another one that have resemblance in two of the pictures that I took...

The frog prince was finally given a kiss from a pricess and he have turned from a pissing frog prince to a human pissing prince. And they live happily ever after... (All fairy tales should have that line for ending)




The final one...


This is Xia Xue, a famous blogger in Singapore.. If I were to stand beside her, people might think that we are siblings. You don't believe me? Well look below and you be the judge..