Now that's nice.. =]
Attention! The reason I crossed the eyes is that I don't want to further invade their privacy. Plus I don't want to end up in court, getting my ass sued until my pants fell off by itself. =]


By now I think a lot of you guys who read my blog (if there are any..) would like to think that I complained a lot on what people wear. I'm not the kind who like to do that okay? I wear some of the worse outfits almost all of the time. It was just a coincidence that I was there when those people wore the worst. I don't go look around for them.
Anyway, girl seem to have it right, her clothes doesn't scream "Hey!! Look at me damnit!!" out loud but it suits her properly thus making her an easy to the eyes (part of the reason I stare at her a lot ... I'm sorry, it's a bad habit of mine. >__< ). In the last post i mentioned that acessories can either make you or break you, and i can say that she couldn't have chose a better necklace to go with her clothing.
"Cher, her clothes are so plain. What's so special about it la?? I prefer the last time one."



"Aahhh.. Indeed that you are right that her clothes are more plain compare to the last post woman my friend. But what I'm trying to show you is how in choosing what kind of accessories can enchance the clothing or make it bad looking..."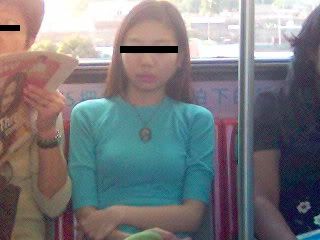 "Notice how her necklace fit with her clothes. It doesn't stand out too much but it will still grab your attention to it."



O_O



"Stop looking at her assets!!!"



"It sure did grab my attention. I for once agreed with you. Muahahahahha!!"



"Haiz... perv. -____-"