Taking driving class
I took my driving class last month.. Planning to get a driving license and be a full fledge road hazzard by this year ^_^
"Wah lan eh, u how old oledi?? only this time taking driving license ah? so loser la.." I know la its kinda late for someone my age to be taking driving class now but what to do,
i didn't come from rich families like u do , lucky bastards! Anyway.. i called mr yew from a driving institute to register at his school (wat else? u think he's a bapak ayam meh?)
He said that he will call me beforehand when there's a place in the class by in which he assured me that it won't be on the week that i called him (liar!)
On sunday morning, while i was sleeping. Mr. Yew called me on 8.00 am saying that he's waiting at the front gate. (What the fuck??!!) So i told him that i'll be ready in 5 minutes (which i was lying coz it took me 20 minutes to get ready)
And off we go!!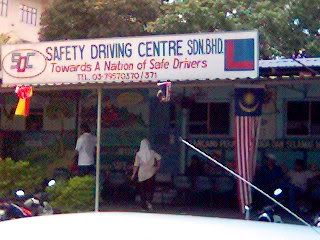 The temple of the holy driving lessons.


(Note that woman is scratching her tush.WTF)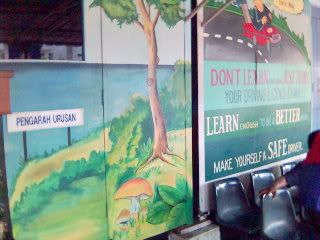 This place reminds me of nursery schools.. why the hell they draw such murals? are they thinking of us as a bunch of retards? which in many cases are true
Lining up to registered to the class. there are quite alot of potential road hazzard there! including me of course! >_<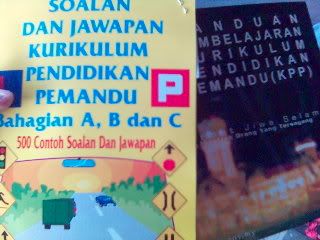 Got me two books on driving information.. one is a driving theory exam samples.. all which are very kiddish books.. (further enforcing the fact that they are treating us like a bunch of retards)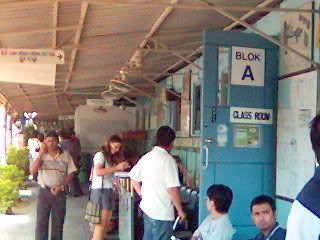 The class that i'm in..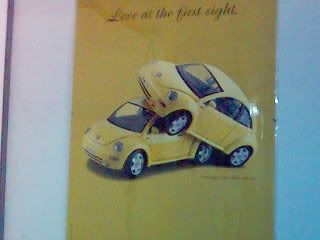 The 1st poster i saw mounted on the classroom wall.. OOOooo rauchy! what a message! it tells you that when you get a driving license, its not only a license for driving. But its a pass for you to a better sex life!! well its just my thought anyway..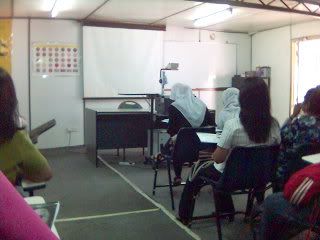 You may see a couple of malays in the class but when the lecturer said that he will be teaching in english because of the amount of foreigners taking the class, there were only two locals left in the class.. me n the other guy..
Well the class lasted for 5 hours with the lecturer spending 1/3 of the time talking about his life.. yawn... cutting the story short, i went home after the class ends and continue on my wonderful sleeps..ZZZZZZzzzz