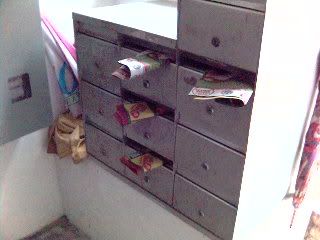 And I thought spam mail only exist on the internet..



A work from someone I know , the talented and might I say blur blur cute Wee San ( I'd like to say that she's my friend but I'm not that close to her anyway. But it's fun bullying her.. >=] )



If you want to see more of her work, go to her deviant site in here

~~~~~~~~~~~~~~~~~~~
Deeparaya holidays must be the worst holidays I ever had in my entire life. I'm actually glad that it's over now and I get to work on the job that I am not very fond of. Let's see what I did during the holiday shall we?
Day 1 of holiday (2 Nov. 05) : Sleep the whole day till 6.30 pm ( I'm serious! I think I broke a record over here. Mum should be so proud of me if she know this.) Woke up, shower, watch some tv, found out tv shows doesn't really have anything interesting thing to see (so much -ing there!), go down for dinner, watch tv , tv , and more tv (not really watching, more like looking at it), play some game, watch dvd.. (God! I've just realised that my life revolve aroung TV, the instrument of evil!). Realise that's it's 5.30 am so I went to sleep..
Day 2 of holiday (3 Nov. 05) : woke up on 1.30 am, shower, looking at tv (again), play some game.. (only now I start playing FF 7, yeah I know it's a game ages ago but I never get to finish it, I don't know why..) shower, dinner. (yup I skipped brunch. Too lazy to go out on a hot day), continue FF7.. sleep on 5.00 am
Day 3 of holiday (4 Nov. 05) : Ditto except I clean up the living room since it is a eyesore for almost half a year and didn't want to wait for my housemates to come back from their respective kampung to clean it up together. The excuses they gave me the last time I asked them almost made me wanna strangle them. (although they are partially right about it)
Day 4 of holiday (5 Nov. 05) : Ditto as day two. Went to cyber cafe to blog (whine) about my day. Planned to continue on my comic (keyword: planned) but didn't since my mind was a total blackhole at that time. Lack of motivation is the cause.
Day 5 of holiday (6 Nov. 50) : Finally decided to go out of the house. Planned to go to Bangsar cari - cari makan since I never actually been there before but guess what happened after I was all dressed up and ready to go?
.
.
.
.
Why god? Why???!!!!! God apparantly have a good sense of humour.