Opppss.. I made a bo-bo, it seems that Wee San didn't make that Bonia whacamacallit art. She did make this Baskin Robbins one though...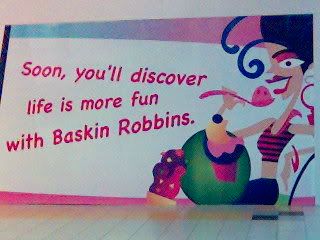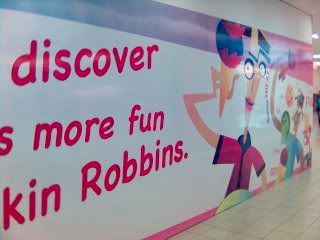 It's.... nice.... very... artistic.... I ..... guess..... O_O
Okay, let's move on~~

~~~~~~~~~~~~~~~~~~~~~~~~~~~~~~~~~~~~~~~~~~~~~~~~~~~~~~~~~~~

Last night I went to watch Chicken Little with my colleagues, yeah I know, I may be a little too old for that overly cute and children friendly movie. But I am a huge fan of Disney (especially their 2D animation movies, why do they have to switch to 3D anyway??!! Damn them!!) , and I don't look my age. My colleague who is three years younger than me looked like he can be my older brother. Heh! You know that I got asked once for my I.C. when I want to buy tickets for 18 SG movie? I'm not bullshitting you, maybe the cashier trying to hit on me or suspect that I am wanted man..

Anyway I took a cab to One Utama and the cab driver tried to strike a conversation with me. I don't really like to talk alot to strangers but I don't wanna be called an ass so I simply gives him simple respond to what he have said by humming "HHMMM", "HMmm??" and 'HHmmm~~~~".

He said "There's a lady that wanted a ride to Puncak Damansara there but I don't wanna go there 'coz it's a hassle to get out of there afterward. That place is so full of cars that they double or triple park there. I mean sure it's none of your problem once you paid the fair and got off from the cab but you think I should take you wherever you want to go just because you're a paying customer meh? Paying customer 'dai sai' meh ? huh right?"

Then I go " HHmmmm~~" (what the? Who do you think I am? your relative ah? I'm a paying customer also what)

Then he say " Just now I went to brickfield there to go to the deepavali open house they held there... blah blah blah... " (I phased out after that...)

Anyway...

Chicken Little was an enjoyable movie. A bit too short but overall enjoyable. To the guys, don't ever go McDonald with your girlfriend after you two watched that movie, I bet she'll force you to buy her that chicken little plush toy later. It's just that cute. But I like the pig better, he's a funny lad and he reminds me of 'Fei Mau' (fat cat) when I see him run.

After the movie, we decided to go to the funfair at the one utama car park since it's early to go home after that.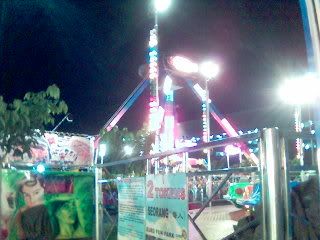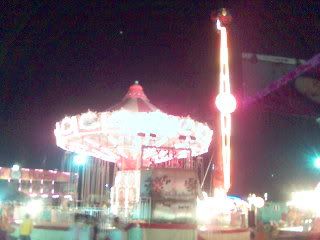 Frankly I think that place sucks ass, it's too expensive for my little budget, and the prizes are cheap rip-offs but hey that's what fun fair is all about right?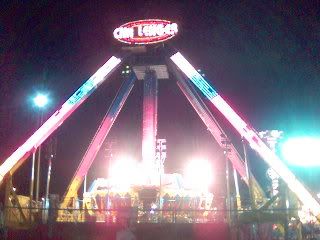 Took a ride on this with one of my colleague, oh boy, it was fun seeing him crying his heart out saying "I'm scared, I'm scared, I wanna go down!!" That guy is a wuss , ahahhahaha..
it's fun to laugh at someone who can't stand straight after playing those thrill seeking ride. Too bad he won't let me take a picture of him though...