All I got for Christmas are these???
So me and my (hanging out) colleagues went for a Christmas eve's lunch @ gifts exchange (sorta like a) party on.. well... Christmas eve! after work. Yep, the boss won't let us take a break even if it was only a half day work.(It was Saturday).
I was a bit worried if my colleagues wanted to cancel the lunch because they went to a site visit that day and trust me, it is not a place you want to visit before you eat. Sewage Treatment Plant is not a place to be at all.
I was instructed to tag along but alas my boss with his ingenious mind suggested two from the drafting department have to stay back in case he wants us to draft a drawing. (Which we never did at all).
My colleagues decided that they want to share the view of the site and sent me some of pics they took there. (how considered of them!). Lucky for me, the resolution in handphone are not high so I can't figure what the picture is and thanks to recent technologies, handphone doesn't have smell 'o' rama so I can't have a whip of the air from the site.
So after work we went to a steak house somewhere I don't really know of, and I forgot the name of the restaurant. (Yes I know I'm bad at being a journalist but hey, I'm not one lah ok?). Had lots of laughs, a hearty meal and took some pictures.
You know if someone's a truly camwhore when he/she ignore the person speaking to him/her just to pose in the picture.
"
So the clothes of the girl was like soooo yesterday and.... hey are you listening??"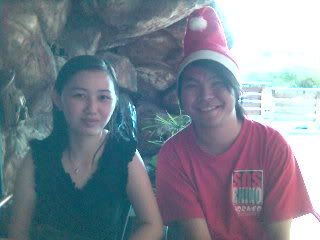 Kelly and me. Can't think of anything to say about this pic.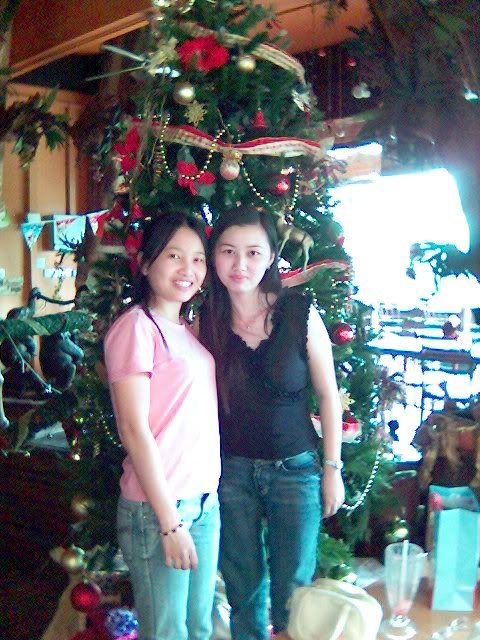 Miss 'Curry' Kuah and Kelly. Two of the most pretty girls in my workplace (which proves that my workplace doesn't really have pretty ones working in it. = [ )
They both begged me to take a picture with them because I'm so irresistible.... okay okay, it was the other way around!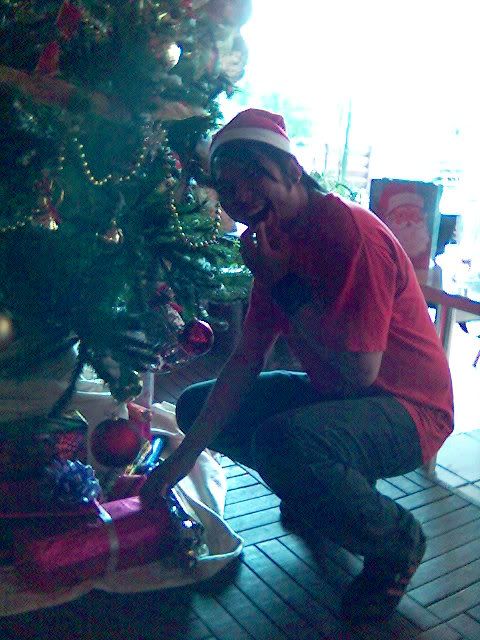 Thought I might have a chance to take the presents underneath the christmas tree but alas I realized that I'm doing it in public and the owner of the restaurant have begin to dial 999.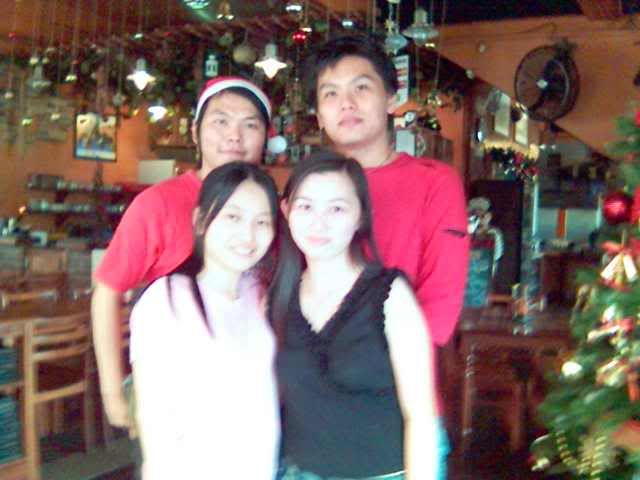 Group photo. Which is taken with shaky hand. (thank you shaky hand waiter!!).
We exchanged gifts after all that..
Lucky that Miss 'Curry' Kuah have a credit card in hand because we realized that none of us have enough cash in hand after that hearty meal. Or else we would all end up spending Christmas together in a cell. But if we really did, I would at last know how Martha Steward feel... hehehe?
I happily open up my christmas present after I got home to see what Miss 'Curry' bought. And my happy, grinning face quickly turn into "bleh" look when I peek inside the gifts wrapping.. What did I get for Christmas you ask?...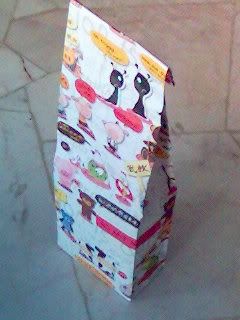 It looked so promising from the outside. But inside is...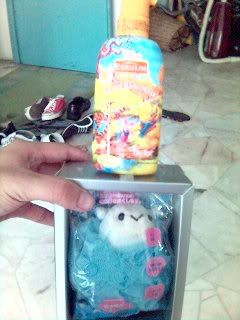 A body shampoo with the body washy thingie?? What the hell??? I want a refund!!
Hahaha I was kidding, I love the present miss 'Curry'. Imagine me smelling fruity and nice, I bet a lot of girls would pounce on me the moment I step into the LRT. WOOT!
I just hope that my ass won't get harassed again like last time!
*Oh yeah, I got a great gift from Sandra. Thank you Sandy! she's truly an angel, bought us the gang a present each even though she knew that all of us are so kiam siap that we didn't bother to buy her one. We are so evil.
Sorry that I forgot to take a picture and blog about it Sandy!*