The red carnival and the TV3 carnival
So I went to Sungei Wang yesterday. Had quite a good time although I'm all by myself. One of my housemate have to go on a training, the other one have to work. As a comic artist, you do have to be a sell out even if it means that you won't have a break on weekend.. The others , well let's just say they are busy with something. Unlike them I tend to have nothing to do on weekend, they see it as bliss, I see it as boredom.. grass is always greener on the other side..
Anyway.. i was there somewhere between 2 - 2.30 pm. Was planning to see some local perfomance that was held there but it only starts around 5 pm. So I went window shopping around Sungei Wang and Times Square. Have alot of things that I would like to buy there but goddammit I have a really tight budget!! (where's money when you need them?!) . So i heard that one of my housemate is gonna be at Times Square promoting his comic magazine (JOM) and went there to see all his glory.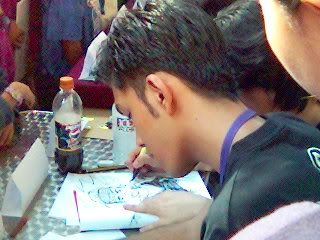 He's the one who draw Obscura in the JOM magazine.. it's a story about ... er... about... vampire and stuff... I don't really like that magazine but it doesn't mean that it's not good. Go buy it guys!!
Saw my dream car!!! which one??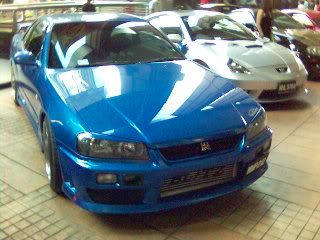 There were some show that TV3 and Digi put outside the Times Square compound. Something like TV3 carnival. There alot of zombies there too. Why? because those who stands there and watch are basically living dead. They give little or no effort at all to respond to the show. The host begged them to clap, shout or anything at all to liven up the atmosphere abit but it does seem like he's talking to a bunch of lifeless figurines. Well that's Malaysia's live show for you..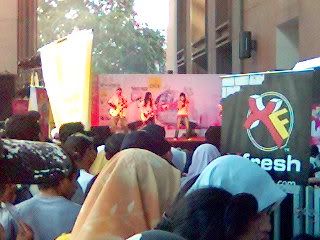 Can i have a bit of hand here? when I say hey you say hoo~~~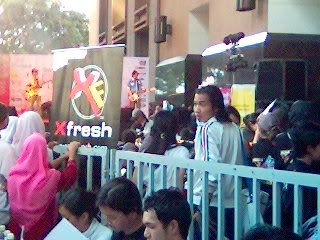 ................
........ you guys suck!!!
After wandering around aimlessly and google at all those beautiful people. It's 5 pm and I dashed off back to Sungei Wang to see the show. It was a show put on to teach people about AIDS, I've learned quite a lot of things about HIV and AIDS there guys and felt that the amount of money I donated to them that day was worth it (don't really know how much did I donated but it was a lot of RM1s .. i didn't count..)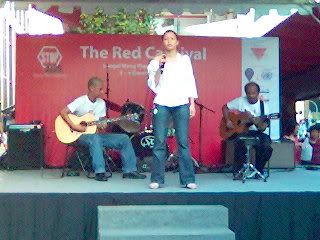 This is the group called Ambers. The singer's name is Ina (I think)and she's has a really beautiful voice. And quite pretty too..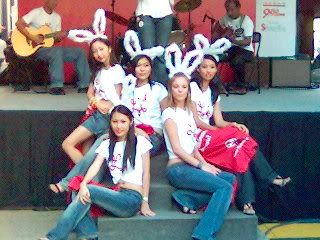 This is one of the time that I wish I have a decent digital camera, I would have gone in Sungei Wang and buy one straight away but again I'm on a very tight budget. Bummer...
A group of RED CARNIVAL's girls. I don't get what's with pretty girls putting up cat walk on stage have got to do with educating people about HIV and AIDS but hey, you don't see me complaining. ;)
There were few mini games to play and Q & A sessions after the performance. I have to say that even thought the amount of people watching the show was little compare to the TV3 carnival held at Times Square but at least they are people , not an army of zombies like the crowd on the TV3 carnival. The atmosphere here is alot better here then there..
After that it was Ben's Bitches time to make the end performance.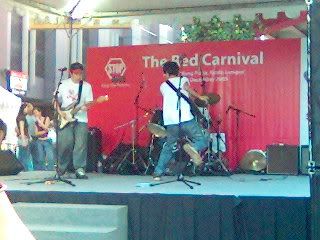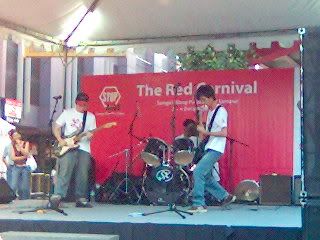 They are fun to watch and their music are fun to hear... alot of screaming and mumbling but its good..
their songs are... ermm.... quite... interesting... O_O
I saw a guai low sang along to their cover song from 'The Who'.. which is cool..
*I think I saw
Lainie
there but I didn't go to her to introduce myself because I'm afraid that I would mistaken and
might have make horrible joke about her rack
and got her smacking me down silly on public.. wouldn't want that to happen... =S