Warning, do not read this in between meals!!
Seriously I am not kidding about this....
Unless you are planning on diet and need the motivation to stop eating, then you are welcome to read this post and take a closer look to the wonder of sewerage world~~!
Okay, the last time I talked about when my colleagues went on to site visit without me. Today I have the opportunity to have a tour with others that haven't been there like me. We were to go there at 10am so that we'll be right in time for lunch after the tour finishes (another ingenious mind courtesy from my boss). I've said it before and I'll say it again,
s
ewage treatment plant IS NOT A PLACE TO BE
if you are planning to have a meal.
I were not to disclose any secret from the company so I'll just post some important pics just to show you guys what I have seen before I went on to my lunch. But anyone who are interested in knowing how does a sewage treatment plant works are welcome to ask me questions and I'll try my best to answer them. (Who really want to know about it anyway?)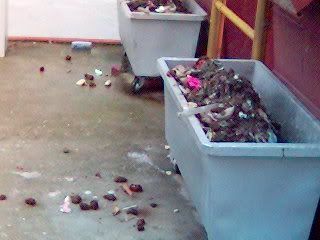 Can you see those
brownies
on the floor there? Anyone who can guess what those are get ten points from me (in which those points doesn't mean anything at all anyway)
yep... more of them
nasties
!! Look closely and you can see
Mr. Hankey Poo
from South Park there..
Woot! what a place to be before your lunch!!