doong doong chiang!!!
This is only a joke, take it with a pinch of salt, if you are hurt by reading this in any way, then take the pinch of salt and rub it hard on your wound.. thank you..

choi san tou!!!!!!
well, I don't know if he ever visit me yet, I've been spending money faster than I earn lately. Pretty ironic that God of Prosperity are suppose to bring wealth to home but we've been spending alot to welcome him... Losing huge amount of our money instead of gaining more..
At KK Sabah there, there's even one Choi San that go to houses 'asking' for hung pao. How ironic is that??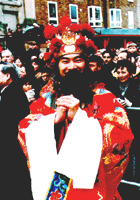 Choi San were last spotted hanging around angmoh at kam san...
relaxing in his multi-million penthouse. He would occasionally visit chinese restaurants and laundry shops at china town to ask for hung pao.
Most of the Chinese there suspected that he is just asking to 'protection money' and work with some triad, but angmoh just treated him as an tourist attraction.

Rumour has it that Choi San Yee has sold some of his license to McD and came up with a burger that represent his wealth. Charging a set with RM 8.80 (as '8' represent wealth in chinese society) he has successfully trick people (including me.. sniff sniff) into thinking that eating it would bring prosperity to oneself when the reality is its just something that's similar to burger king's black pepper burger..
Joking only ar, don't be mad lar... I'm bored mah.. Don't feel like working when there's holiday around... I'll be on my flight back to KK this Saturday night for one week so probably won't be updating anytime soon. Not to say that I have alot of regular readers so I guess noone would miss me here. But just to inform whoever that have come across this blog..
I can't wait to go home. Mummy's cooking waiting for me there! woot!
Still thinking of what to answer the 'ultimate' question that relatives would throw onto me whenever I'm home...
How to answer when they ask..
"So... have girlfriend oledi or not??" -___-.......