Convenient? My ass la!!
Okay, I know I'm suppose to be in hiatus. But the stupid Rapid KL angered me so much by their stupidity that I have to get it out or else I'm gonna find a club and bash at any random people I encounter.
To all who lives or work in KL should know that Rapid KL now has changed their bus transportation system right? I was all okay with it and glad thinking that they are taking action to curb the problem of people getting crappy public transportation service. But later I found out that they are gonna change the route of the bus that I take to my workplace (prior 3 days before the official new route, I don't know why they didn't inform it earlier, maybe they were trying to avoid people from complaining about it). Quite frankly I hate the new bus system, its a pain in the ass!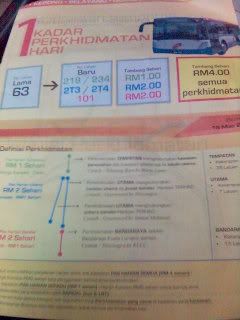 Found this stupid flyer sticking on the window of the bus that I took.
Okay usually , I have to take a bus from Bangkok Bank near the central market there to my work place which is at Jalan Segambut. The trip is quite far and I have to go through three zones (the zones indicate how much you have to pay). But I was okay with it because I only have to take one bus to get there.
But the stupid bus system that they are using now are the buses only go around in their respective zones. So it means that instead of taking just one bus, I have to rotate between three buses to get to my work place. And I have to pay RM 4 for a one day trip, that's extra RM1 more plus all of the trouble I'll be going through.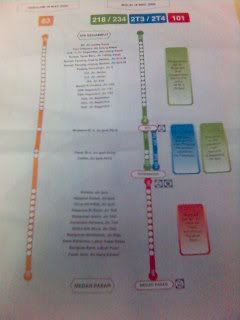 On the left is the old route and on the right are the new routes. So as you can see, instead of just taking one bus to go to my work place, I now have to take three buses. Pretty fucked up I must say.

Plus if given the situation where I missed all three buses, I have to wait 10 minutes (if miracle does happen and there is no traffic jam) for each buses. So adding it all up , I have to wake up 30 minutes earlier than the time I usually wakes up (at 6am) if I don't want to be late for work, so it means that I now have to wake up at 5.30 am!!!! blardy fack!!!! All those trouble, with fare increased by RM1 again!! OMGWTF!!!!oneoneone!!!yatyatyat11111!!!!

@&*%^$#%*%@@!!!!

So now I'm gonna take the metro bus which only reaches the road on Jalan Ipoh, and have to take 20 minutes walk to my work place. At least I'm gonna be fit (and die earlier from inhaling smoke coming out from the cars).

That's it!! I'm buying a fucking bike!!! (or maybe a kancil i guess)