Peachy Lemon?? HAHAHA
While I was searching for some dvds to watch, I stumbled upon a cd that I thought was lost two years ago..
The cd was a gift after me ,
Haizum
and
Hadibi
tried to join in an internet singing contest. The contest was organised by a company called i-dee.com which unfortunately was closed down few months after we have submitted our clip.. :( . The prize was RM 500 per week !!! if given that we are able to stay on top of the votes, we were able to win again the next week.. dammit! why didn't we join in earlier!
This brings back the memories... aahhh the hair... its weird I know.. and I was way skinnier the last time.. hahaha..

anyway, I don't want to bore you people with details so let me show two clips from us...
The Peachy Lemon!! (don't ask why we choose that name.. hahaha)
this is a song called bedroom window by a local indie band nice stupid playground. I use to listen to them over and over again during high school. They were great! hmm... wonder what happened to them now?
A song from the corrs, I only practiced on that song in one night so I was afraid that I would screw up, in which unfortunately I did! >_<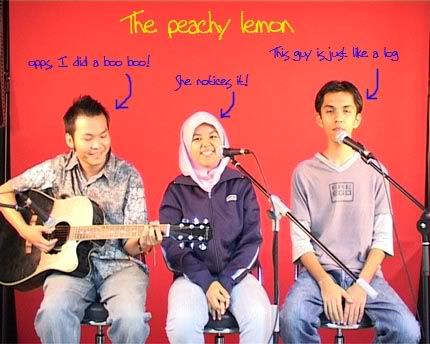 I hope we can do it again soon!!!!